The material is certified as "Safe for Humans" (IW ZC TEXTIL-CERT No. 061 / AC 017) by the Institute of Textiles in Lodz.
PANTHER STRIPES is a soft and thick fur material with a pattern imitating natural panther fur.   
Aggressive variations of shades of brown and beige are a great base for creating bold, feminine stylizations.  
Knit is comfortable in sewing, flexible and simultaneously resistent which makes all the stitches very precise and attractive.
Decorative design will perfectly work in the production of articles for animals (sleeping bags, playpens, scratchers), interior decorations (blankets, pillows) and crazy carnival costumes.
Made in Poland.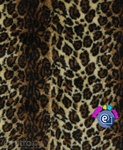 Number

:

335E/42

Colour

:

BEIGE

Length of fur

:

11 MM

Width

:

150 +/-5 CM

Weight

:

650 +/-33 G/LM

Composition

:

30% PL, 70% AC



WARNING
WASHING INSTRUCTIONS
Order free

sample