PERFORATED SUEDE – classics in modern version.
Meet this timeless material in a unique, perforated version and discover its various forms of usage.
PERFORATED SUEDE is a material which doesn't unravel so it's always a good and safe choice.
It's often used for sewing gloves and in the production of stylish jackets or boots.
Made in Korea.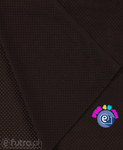 Number

:

19

Colour

:

BROWN

Thickness

:

0,1 MM

Width

:

150 +/-2 CM

Weight

:

425 +/- 20 G/LM

Composition

:

8% SP, 92% PE



WARNING
WASHING INSTRUCTIONS

Order free

sample