CURLY LLAMA faux fur imitates the long, wavy and smooth fur of a llama. The delicate hair makes the fur fabric unique; each creation made using LLAMA is a rare and one of a kind piece.
This high quality fabric is perfect for a luxurious faux fur coat or a warm, charming vest. It also looks well as a collar or sleeves of a fluffy sweater.
The faux fur fabric is easy to work with, sleek and makes an electrifying impression. It is a bestseller of the autumn and winter seasons!
Made in China.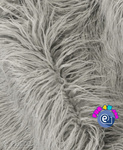 Number

:

4080

Colour

:

GREY

Length of fur

:

120 MM

Width

:

152 +/-5 CM

Weight

:

1000 +/-20 G/MB

Composition

:

100% (AC+PE)



WARNING
WASHING INSTRUCTIONS

Order free

sample
The sample has been added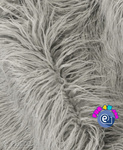 REMEMBER!
In any given moment, you may check the samples you have chosen by clicking

on the main page or clicking the link ORDER FREE SAMPLES at the bottom of the page.
WILK SYBERYJSKI - Warranty is granted by the seller for a period of 12 months.